If you are looking for some GREAT new actions, you have to look no further. These are by far my most used actions. Paint the Moon has I believe two NEW sets she is getting ready to release. I CAN"T WAIT!!!
Double click on the image and it will take you to her blog, so you can check them out yourself. Be careful, you'll become ADDICATED.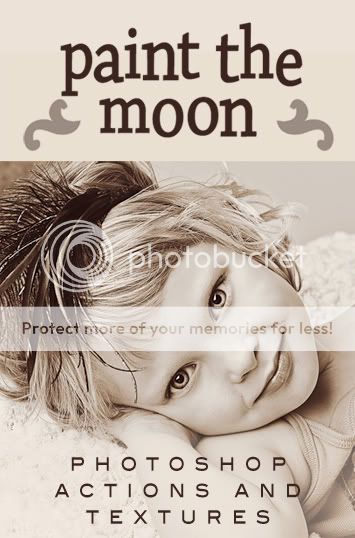 This is sweet Baby A. her blue eyes and dark hair were killing me. I think I could have held her all day long. She was a great model. Thank you Krista for letting me use her. 
Here are a few shoot with a pink sock monkey, and brown visor beanie with detachable flower hats made by Karly's Kloset http://www.karlyskloset.com you can also find her on face book http://www.facebook.com/karlyskloset . Be Sure to check out her site, you will fall in LOVE!!!
We snuck in a couple other shots. 
This is my second Boudoir shoot. We did this one in the studio and as with the first we laughed long and hard. These shoots are some much fun.
And man is she not just beautiful?
Baby A's session was very LONG and super HOT! But we got some great shots.
It took me about three weeks and many many hours to get it just PERFECT. I LOVE the vintage chic feel of it.
So here I am, putting myself all out there!
I thought it would be kind of fun to let you see me at work. The pictures with me in them were provided by {Baby J's Grandma} then the resulting images were taken and edited by me {Out of the       Box Photography}.  Pleasse excuse the naked back. I would have worn a longer shirt if I knew she was going to be taking pictures. And no…I usually do not allow other people take pictures durning their session but…
<